Stress-Free, Professional Packers and Movers in Bangalore
Call for Inquiry
0984 405 7216
0900 8230000
080 2553 5206
What We Offer
Lead Packers and Movers Bangalore offers Professional Quality Packing and Moving Service we offer House Shifting, Office Shifting, Local Shifting within Bangalore.
move packers and movers Chennai, Furniture Shifting, packers and movers Hyderabad
Car Transportation, packers and movers Pune, Bike Shifting, packers and movers Chandigarh
Loading and Unloading, Moving and Storage Service, Safe and Secure
Door pickup and Door Delivery Service, without any damage All over India.
Everything handled with care.

Packaging & Unpacking
Preparation of product or commodity for proper storage and transportation. It may entail blocking, bracing, cushioning, marking, sealing, strapping, weatherproofing, wrapping, etc.

Local shifting
Say Lead Packers and movers deliveries with Road cargo service. We ensure your consignments move with the shortest acceptance cut-off time at origin and highest loading and delivery priority at your chosen destination.
Commercial Movers
Essentially takes care of Office goods aspect of the business. It is a company accredited with the local moving or interstate moving; we take care of your commercial moving from one place to anywhere in India.
Long Distance Movers
Moving long distance and across the interstate with lead packers and movers is a great way to ensure that your belongings are moved safely across the state or country once we obtain the number of items you have to move.
Valuable Moves
The customs clearance aspect of the valuables. It is a company accredited with the local customs authorities, border agencies, port, etc. It arranges to pass the relevant documents at customs.
storage Facility
We provide our customers with modern, spacious and secure warehousing options at our hub to meet their unique needs. Our facilities include cold rooms as well as general warehouses.
How Packers and Movers Bangalore Works
As one of the top packers and movers Bangalore, we offer the best packing and moving services nearby places in Bangalore, Lead packers are Professional packers and movers Bangalore.

Personalized Services For Every Type of Move
Cost effective moving services for any move in an around Bangalore, All over India.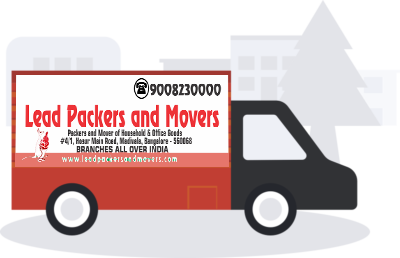 Satisfaction Guaranteed!
Professional Lead Packers and Movers Bangalore are dedicated to customers satisfaction and doing what some movers consider "extras" as part of our everyday business.
Lead packers and movers were done my transfer the unique moving with best of packing.
Very happy with their service. I have taken a right decision by selecting lead packers.
Thank you, team, on your excellent work, and I will refer my colleagues and friends.