On Time
Lead Packers and Movers Bangalore always Deliver your Products at the correct place at the correct time.
Long Distance
From Kashmir to Kanyakumari everywhere in India Lead Packers and Movers Bangalore will help you to relocate.
Fast Processing
Lead Packers and Movers Bangalore plans your relocation process within a day and initiate the work.
Requirements
Lead Packers and Movers Bangalore always get the requirements clearly from the customer only then we initiate the work.
Safe and Secure
Lead Packers and Movers Bangalore promises and continues doing a safe and secure transport of your belongings. 
How to select the Best Packers and Movers in Bangalore?
Need to shift your home, vehicle or office in Bangalore then you will surely need the help of Packers and Movers in Bangalore. But there are so many Packers and Movers in Bangalore we will guide you how to select the best Packers and Movers in Bangalore. 
If you are planning to relocate, the first few things that will be running in your mind is.
What will be the transportation cost?

How to pack all the things and move it safely?

How can I transport my Vehicle?
Like this there will be so many questions arising in your head. 
Either you are planning to relocate yourself or you are planning to hire a packers and movers company from Bangalore. The instructions below will help you to do a successful relocation by yourself or with a packers and movers company.
The important things you need to keep in mind before selecting a packers and movers company in Bangalore are,
Planning Process

Micro Planning

Macro Planning

Relocation During Monsoon (Rainy Season)

Company Packing

Safety and security

Precautionary Measures (Moving during Covid-19)
1. Planning
Planning is the most important process in relocating. If planning is done right, the rest of the things will happen according to the plan.
Well, Planning is the first step in Relocating. Without a proper relocation plan if you relocate the process will become more complicated than a normal relocation process.
Well planning involves each and every detail of your relocation.
For example the count of the total number of things you are going to pack.
A Good Beginning is half done. Like that Perfect planning will give you a steady start in your relocation process. If you are having vehicles and if you are relocating for a longer distance you might need to plan your vehicle relocation process too.
While selecting a packers and movers company in Bangalore. You can ask that company what is the process involved. While hearing the process of that company itself you can figure out how knowledgeable they are on the relocation process.
If you already have relocating experience you will know what are the complications involved. If you don't have prior experience nothing to worry once you complete this article you will have a basic understanding of things that you need to enquire before selecting a Packers and Movers in Bangalore.
Segmentation
Well segmentation is most important if you are packing a lot of things together. For example you can't keep the wooden cups and glass cups together. 
While Segmenting you should also segment how you are going to pack things. For example a few things you can pack in covers and a few things you can pack in boxes but a few things you are only able to pack with specific precautions like packing a TV, Fridge, AC etc.
Quantity Check
I am sure most of you know what quality check is but in the process of Relocation quantity check is very important. Also you should know the quantity segment wise. This quantity check will give us a clear Idea of how many boxes or carriers are required to pack the things.
Also Quantity check will ensure that you don't miss any products in this relocation process. 
The most common thing that happens during the relocation process is that people often miss out on a few things.
2.Micro Planning (Current Destination)
Looking on a whole and planning things will not give the expected results every time. But if you plan all the processes to a micro level it will give you positive results most of the time. 
Micro planning involves all the work that happens inside your home or office during the process of relocation.
 So what are all the things the Packers and Movers company needs to Micro Plan.
First they need to plan how many rooms are in the current house of the tenant and how many rooms are present in the house they are moving to. 
Based on this we can segment the products based on the rooms like cylinders in the kitchen, or beds in our bed rooms etc.

Next thing is our personal items like in a normal family the father and mother may have their own set of things that are used daily like make up kit for mom and shaving set for dad. These things usually get packed last since they need to use this everyday. 

It includes bathroom accessories like paste and brushes that make a part of our daily lives.

Apart from these in the families the kids will have their own set of accessories. As they are going to school everyday they also will like to keep their books and notes until the last day of packing.

So they should start your packing process from the things you use the very least for example your store room you can pack. Where you will most probably will have old accessories, your kids childhood toys etc.

Then once the total count of the products are finished and segmented category wise. Now the packers and movers team should start planning the packaging materials required like boxes and labelling materials.

They need to cover the entire amount of things in the house which include delicate electronic items like a flat Led Tv to a small spoon; everything should be packed appropriately.

Once packed all the boxes should be labelled with which room they belong and how much quantity of things are inside. In case if delicate things are inside it should be bubble wrapped and it should be mentioned as handled with care.

They should plan a sequential order for the packaging process in the house. From the things that are least commonly used to the things most commonly used.

During the packing process they should make sure that these things once packed should be easy to carry. If the person who is carrying these things doesn't get a good grip to keep a firm hold on the things. There are chances of a slippage which might result in the damage of your things.

So it's better that the packers and movers group should do a quality check on the products packed and ensure firm grip while carrying the packed things.

Once all these above checklists are done your things will be ready for transporting to your new destination.
2. Micro Planning (New Destination)
Now you have successfully shifted your things from your old place and arrived at your new place. Now you need to unpack and arrange everything in your new place.
If you planned everything correctly this process will be smooth for you. First and Foremost before unpacking, do a quantity check of your things and proceed. If more delicate things are there it is better to do a quality check also.

After unboxing once the quantity and quality of your things are good we can start the arrangements of your products.

While packing we started from the least commonly used things to most commonly used things. Now while rearranging you need to do the vice versa. Start from most commonly used products and proceed to least commonly used products.

Make the packers and movers company arrange the products category wise and segment them according to the rooms.

If possible prepare a checklist of what products you need in your living room, bed room, kitchen etc. Because while relocating people will often try to give a new look to their homes. So if you already have a list prepared on what things to be placed where. You can bring that new look to your house easily.

Once unloaded the packers and movers group will separate the boxes of each room by the color codes marked on it. Once completed they will start rearranging. 

Once the things are placed verify whether all the things are placed in appropriate places. Ensure this in all the rooms. If everything is done right congrats your relocation process is completed.

The packers and movers company will also ensure that everything is relocated properly and arranged in proper places. Then they will take their leave.
3. Macro Planning
 Macro Planning involves all the processes that happen outside of your house during the process of relocation. It mainly involves transportation, Shifting your things from the current place to the vehicle, and re-shifting them from the vehicle to the new place.
Count the total number of packed boxes and calculate the space required. Based on that you can choose the vehicle to transport.

Once the space is calculated and the vehicle is confirmed you can confirm the date and time of relocation.

Check the vehicle condition before confirming it.

Speak with the Packers and Movers company prior to the relocation regarding transport charges and fare.

In case you are planning for a relocation to a distant place. It may even take a few days  for the transportation process to complete.

In that case you need to ensure the safety of things with your travel agent or the packers and movers group who are doing the relocation process for you.

As I already said in micro planning the packaging of delicate things should be done properly because the road conditions will not be good all the time. All the bumps and cracks in the road can shake the vehicle a lot. Normal things will not be affected that easily but ensure the safety of your delicate products.

Inform the driver about the route to your new destination. If you know the place well you can tell him the shortest route to your new destination.
Make sure the driver is carrying all the legal papers with him. Also if you are transporting vehicles make sure you have all the legal papers of the vehicle that you are transporting.

Try to start early to avoid getting delayed in traffic. Also predict the weather conditions and make a move so that your relocation process is not affected by rain.

During Travel make sure to avoid roads which are not in good condition. Even if it delays the process for a few minutes you can avoid all the bumps damaging your things inside.

Before starting the transportation process make sure the container in which you are carrying all your things is properly locked and secured. It will ensure a safe journey of your things also it avoids accidental slippage of your belongings.
4. Relocation During Monsoon (Rainy Season)
Relocation itself is a difficult process for the families. Relocation during Monsoon (Rainy Season) will be more difficult.
Well Bangalore has tropical weather and receives good rainfall every year. So you can surely expect the intervention of rain in your relocation process.
Let's see a few tips on how you can do a relocation in the rainy season.
If you are planning to relocate in a Rainy Season. First and foremost work you need to do is waterproof the boxes in which you are planning to pack the materials.

You can use Bubble Wraps, plastic bags and zip lock bags for the packing. Make sure all these packaging materials are of good quality so that while transporting the packages in and out of the vehicle it will be good for you.

Ensure that no crack and slips are there in the packaging materials. Because if any kind of hole is present in the packaging material the water may pass through and damage your things.

If you are having wooden furniture try to use blankets or sheets and cover them while transporting.

Try to keep the essential things in your hand. Which includes Id Proofs, Bank Papers etc. in a waterproof bag. Keep a towel handy with you. It will help you in case if you get wet in rain.

Also carry a power bank with you in case your phone runs out of battery during the transportation. Also carrying an umbrella might come in handy.

Wash clothes in advance like a week or 3 days prior to relocation. The humidity will be more than normal on rainy days. As a result the drying process of your clothes will be slower than normal. Also if you carry wet clothes in a packed box it will start to smell.

Choose a closed vehicle instead of an open vehicle. Suppose if it is an open vehicle, request your packers and movers company to provide a sheet to cover the vehicle so that your things will be transported safely to your new location.

Next most important thing you need to do is cover the floor with Mats, old bedsheets, sheets of cardboard etc. So that the floor will not be slippery. If it is slippery it will be difficult for you to move the things in and around. Also a slip will damage both your product and body. So be aware and proceed cautiously.

Make sure to load and unload your products under a roof. If you do it in the open while it's raining it will be difficult for the people to load and unload your products upon the pouring rain. So it's better to load and unload them under a roof.

Plan your journey early to avoid last minute planning during peak hours the traffic will be hectic if you start early you can finish the process within time. If not, unnecessary delays will happen.

If you are planning to join an office, school or a college in a new location, start planning your relocation a week prior itself. So that you can move and join your organisation at the correct time with peace of mind.

Alternate options should be planned priorly as you are going to relocate in unpredictable weather conditions to keep your backup plans ready. Because if everything goes according to the plan it will be well and good. In case any abnormalities happen you should have a backup plan to face that also. 

All these points will help you make your relocation process much smoother in the rainy season.
5. Company Packing
According to a latest survey the second most stressful task for small business owners is relocating.
 Packing an entire company can be both time consuming and challenging. Well you need to plan early and start early for the relocation to happen correctly at the planned date. Follow the below process for an effective office relocation in Bangalore.
 Segment the things and segregate the items that you want to leave like damaged products.

Don't mix items from different rooms in a single box.

Wrap layers of paper in the box and fill the layers one by one so that it will be easy for you to identify them.

Another Method is you can keep a few small boxes filled with your stationery and keep all the small boxes inside a big box. So that the things are packed category wise and segmented inside.

Next important step you can do while packing is Labeling. Labeling the pack makes you understand what is inside in an instant. So it will come in handy when you are packing delicate items. You can also mention "handle with care" on those items.

Suppose if you pack the items of 4 different rooms in one single box. You can label 4 different places in the box and you can mention from each room what things are packed inside this box.

In case if some things cannot be labelled or you don't find a good name to label all those items. Mention them as miscellaneous items. So that you can identify and understand what is inside that box while unloading.

An easy way to wrap your items is by using newspapers. By doing so you can arap all the small items and paste them with a tap and you can transfer them into the boxes.

Make sure the boxes you use to pack are clean and strong enough to hold your things inside.

While packing you should be more cautious when it comes to flammable substances make sure they are well packed. Ensure the safety of those boxes during uploading and unloading.

It is essential that you transport your legal documents ID Proof and other valuables yourself. As you might be needing it more and most frequently. Especially when you are relocating to a longer distance you need to carry all these things by yourself.

In an office there will be many departments. How will you identify which box belongs to what department? For this you can mark up your box with specific color codes. Each color code should represent one department. In this way you can identify and separate the boxes after unloading for the rearranging process.

 Another most important step while relocating your office is it is very important to back up your data to avoid getting lost or breached. You can't carry the entire hard disks, pen drives and files with you while relocating.
6. Safety and Security
Safe and secure relocation is the number one priority of packers and movers companies. Also it is what is expected from their customers too. In order to do a safe and secure relocation follow the tips mentioned below.
First and foremost what you need to do while relocating is prepare a checklist of entire items you are going to relocate to your place. So that you can always have a count on the things while loading and unloading. This checklist will ensure that all your products have been successfully relocated. In case if anything is missed you can verify that with your checklist.

Next thing that you should be more concerned about is the quality of packaging materials used by the packers and movers company you hired. If you find any packaging material damaged, report it immediately to the packers and movers company and request them to provide a new packaging material or an existing packaging material that is in good condition.

Ensure the floor conditions while loading and unloading if the floor is slippery or some construction works are going in the current house you should be more careful. At any cost ensure that the floor is not slippery. In case it is wet, inform the packers and movers team about the floor condition and ask them to process slowly and to be more careful.

Before transporting, check the vehicle condition. Make sure the container is dry before uploading your things. Also make sure that the vehicle owner has all the proper papers of the vehicle with him. Check the date and of the service done by that vehicle. If possible go with a fully covered vehicle especially if you are relocating in a rainy season. If it is summer it's ok to go with an open vehicle.

Make sure that delicate things are packed with bubble wrap properly before transporting. Mention a special color code on all the boxes that contain delicate items. Ensure that the color code is identified by the packers and movers team and these boxes are handled with care while uploading and unloading.

If you are planning to relocate your vehicle along with your things. Inform this to your packers and movers team they will give you all the instructions that you need to follow while transporting your vehicle. Especially while transporting your vehicles you need to keep a set of legal documents of that vehicle with you that states that the vehicle you are transporting is yours.

In case if you are doing an office relocation make sure that all the department heads do an internal check before uploading. As each department is marked with a separate color code they can easily identify. Make sure that you keep a data backup of your business and finance details prior to transporting.
 7. Precautionary Measures (Moving Through Covid19)
As the Covid-19 pandemic is at its peak, how can you plan your relocation through these difficult times with complete safety. The Packers and Movers industry was greatly affected by this pandemic. So now these companies are following strict guidelines for a relocation in this pandemic.  Follow the tips below to ensure a safe and successful relocation during the pandemic into your new house.
When you are selecting a packers and movers company to do the relocation process. Ask them about the safety protocols they follow while doing a relocation. Once you are satisfied with their response. You can process with that packers and movers company.

Once you finalize the company you have to plan the quotation process. Generally a person from the packers and movers company will visit your house to do a round up followed by that the company will offer you a quote.

Now during Covid, you can ask the company person to have a virtual tour at your home and fix a quote and give it to you. It will be a more safe and wise approach. Once the quote is Finalised and you decide that you are going to move with this packers and movers company then you can make them do a physical visit to start the process.

Before the packers and movers team arrive you can clean your house with disinfectants with surface spraying solutions. This process should be done at your new home too. Once your packers and movers team completed the relocation process at your new home you can start disinfecting with surface spraying solutions.

If you prefer to pack all the items by yourself that is fine but make sure to buy the stationary required to pack your things in advance. So that you can avoid last minute visits to the stores. It should be packed a day before and it should be disinfected after packaging. Then sanitize the boxes and items inside after unpacking.

Make sure that you abide by the lockdown rules in your place while relocating. Know what are the time limits announced by your government before you plan your relocation date.

Your safety lies in your hands. You must keep hand sanitizers always around you and wear a mask at all times during the packaging, uploading and unloading process. Make sure to maintain a 6 feet distance with your packers and movers team during the relocation process.

You can ask the Covid test reports of the team members of the packers and movers group. You can enquire about past history and also you can inform them if someone from your house is infected. Transparency only increases the trust and removes the suspicions from both sides.

Make sure you wear gloves at all times and keep a few sets with you at all times. Also request the packers and movers team to use gloves at all times during the relocation process. Make sure the gloves are regularly replaced with correct intervals of time.

Once this relocation process is complete and all things are moved into your new home. Make sure to clean the entire house with disinfectants, while disinfecting give most importance to floor, doors, doorknob and windows etc. You know what are the places in your home that people usually spend their time with and what are the places in your house they touch the most.
Conclusion
Choosing the best packers and movers company in bangalore for your relocation is very important. Make sure they follow all the guidelines and work ethics mentioned above. If you have chosen the right packers and movers company in bangalore for your relocation the process will be smooth and safe most importantly it will be done on time for you. 
In case if you are planning your relocation on your own all the points mentioned here will be very useful to you. If you are a small family and have only a few things with you to transport you can relocate yourself by following the steps mentioned above in this page.   
How Lead Packers and Movers know all these insights and have been an industry leader in the packers and movers industry for the last 15 years?
Well Lead Packers was originally started from the year 2004 and it is running successfully till now due to our efficient team who do an excellent customer service for our customer. Also one of the most important reasons for our success is the innovative leadership done by our CEO Mr. Afsar Khan throughout all these years.
We thank all our happy customers from our heart for choosing us as your trustable partners in your relocations.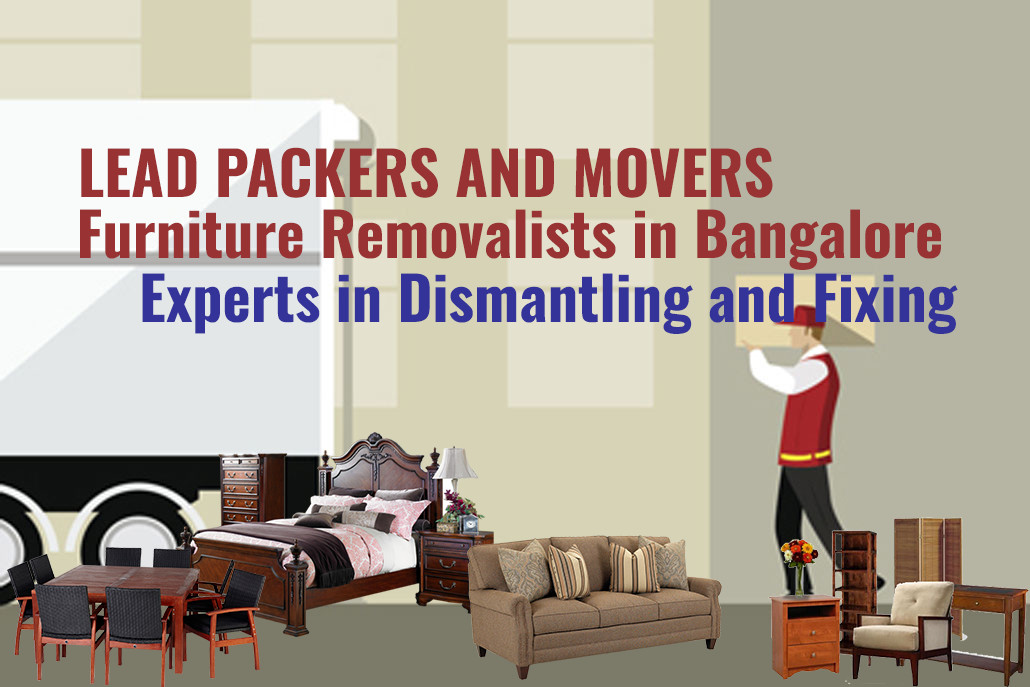 Lead Packers and Movers Bangalore done our office relocation work. We were very stressed about the process. But they did the work smooth and quick as a result we could able to start our operations sooner than we expected. Thank you Lead packers and Movers Bangalore.
I contacted Lead Packers and Movers Bangalore to shift my house from Yeshwanthpur to Hoodi  they explained me clearly how they will do the relocation. Thanks to Lead Packers and Movers Bangalore my House Relocation was done proper and smooth.
Lead Movers and Packers Bangalore Branches
Packers and Movers in Cooke Town
Packers and Movers in Indira Nagar
Packers and Movers in Koramangala
Packers and Movers in Malleshwaram
Packers and Movers in Rajaji Nagar
Packers and Movers in Yeshwanthpur
Packers and Movers in Majestic
Packers and Movers in Richmond Town
Packers and Movers in Yelachenahalli
Packers and Movers in Deepanjali Nagar
Packers and Movers in Attigupe
Packers and Movers in Vijayanagar
Packers and Movers in Hosahalli
Packers and Movers in MG Road
Packers and Movers in Madiwala
Packers and Movers in Halasuru
Packers and Movers in HSR Layout
Packers and Movers in Varthur
Packers and Movers in Kammasandra
Packers and Movers in Subramanyapura
Packers and Movers in Abbigere
Packers and Movers in Nagavara
Packers and Movers in Manyata Residency
Packers and Movers in Kuvempu Layout
Packers and Movers in Electronic City
Packers and Movers in Nagasandra
Packers and Movers in Dasarahalli
Packers and Movers in Jalahalli
Packers and Movers in Peenya
Packers and Movers in Goraguntepalya
Packers and Movers in Sandal Soap Factory
Packers and Movers in Srirampura
Packers and Movers in BEL Circle
Packers and Movers in Kalyan Nagar
Packers and Movers in Hesarghatta
Packers and Movers in Whitefield
Packers and Movers in Hoodi
Packers and Movers in RT Nagar
Packers and Movers in Domlur
Packers and Movers in Trinity
Packers and Movers in Indira Nagar
Packers and Movers in Attibele
Packers and Movers in Thirupalya
Packers and Movers in Nayanda Halli
Packers and Movers in Vidyaranyapura
Packers and Movers in HMT Layout
Packers and Movers in Fortune Valley
Packers and Movers in Chickpete
Packers and Movers in KR Market
Packers and Movers in National College
Packers and Movers in Lalbagh
Packers and Movers in Shivaji Nagar
Packers and Movers in Jaya Nagar
Packers and Movers in RV Road
Packers and Movers in Hebbal
Packers and Movers in Tin Factory
Packers and Movers in Banashankari
Packers and Movers in JP Nagar
Packers and Movers in Bommasandra
Packers and Movers in Dodda Bommasandra
Packers and Movers in KR Puram 
Packers and Movers in Mathikere
Packers and Movers in Marthahalli
Packers and Movers in Hoskote
Packers and Movers in Kengeri
Packers and Movers in Chandapura
Packers and Movers in Frazer Town
Packers and Movers in Naagarabhavi
Packers and Movers in Yelahanka
Packers and Movers in Kempapura
Packers and Movers in Jakkur
Lead Packers and Movers Bangalore